On 17 February 2017, UNIDROIT hosted an event organised with other partners of the Global Forum on Law, Justice and Development, under the patronage of the Italian Agency for Cooperation for Development, designed to present a the "Human-Centered Business Model: a Holistic Approach to a New Model of Doing Business". The Project aims to contribute to the development and to pilot a new economically sustainable business model, which, while producing wealth on the one hand, does so in abidance of human rights, by respecting its environment and local community.
More information on the event (in Italian):

Agenda

Project information

Press Review

Statements issued to the press

Video (produced by Panorama TV)
UNIDROIT, together with the other project partners, opened its doors to over 80 participants, stakeholders, and members of the international legal community, opening the programme with remarks by Professor Alberto Mazzoni, President of UNIDROIT, José Angelo Estrella Faria, Secretary General of UNIDROIT, H.E. Ambassador Pietro Sebastiani, Director General, Italian Ministry of Foreign Affairs (DG for Cooperation and Development), Nicola Bonucci, Director & Accession Coordinator (via videolink), OECD, Carlo Maria Medaglia, Italian Ministry of the Environment (Technical Secretariat), Laura Frigenti, Director of the Italian Agency for Cooperation for Development, as well as His Eminence Mons. Augusto Paolo Lojudice, Auxiliary Bishop of the Vicariate of Rome, and Mr Pierrre Viaud (SICPA). The project was presented by representatives of partner organisations: Spyridon Flogaitis, EPLO; Marco Nicoli, World Bank/Global Forum; Andrea Zorzi, University of Florence; Cesare Licini, Notaio; Giovanni Liotta, Notaio; Zachee Pouga, Michigan University; Andrea De Maio, EPLO; Pierluigi Sassi, Earth Day Italia; Thomas McInerney, Loyola University. The afternoon session featured a workshop to highlight the strengths and challenges of the Human Centred Business Model, chaired by Professor Salvatore Mancuso of the University of Cape Town, with the participation of Andrea Nardone, Fondazione Risorsa Donna; Fabrizio Cafaggi, Scuola Nazionale dell'Amministrazione (SNA); Francesco Vella, University of Bologna; Gianni Rosas, Director of ILO (Rome office); Luciano Carrino, KIP International School of Rome; and Maria Chiara Malaguti, University Cattolica Sacro Cuore of Milan. The Italian experience of the "benefit corporations" was presented by Margherita Bianchini, ASSONIME, and by Diletta Lenzi, Università Ca'Foscari.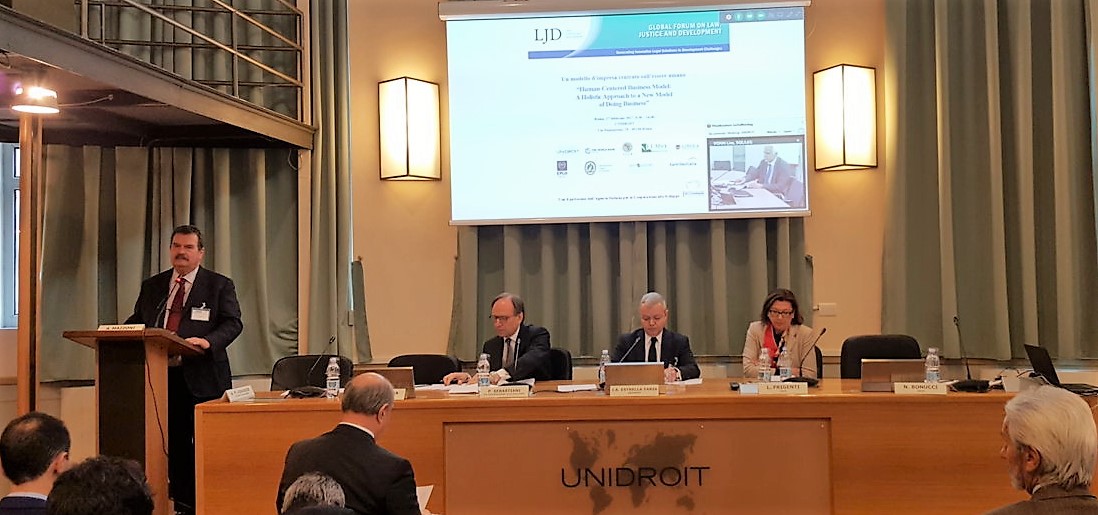 Professor Alberto Mazzoni (President of UNIDROIT) delivering his opening speech, with opening panel as reported.