FORTHCOMING EVENTS
Roundtable on Post-Conflict Reconstruction of Historic Cities (Lens, 20-21 January 2017)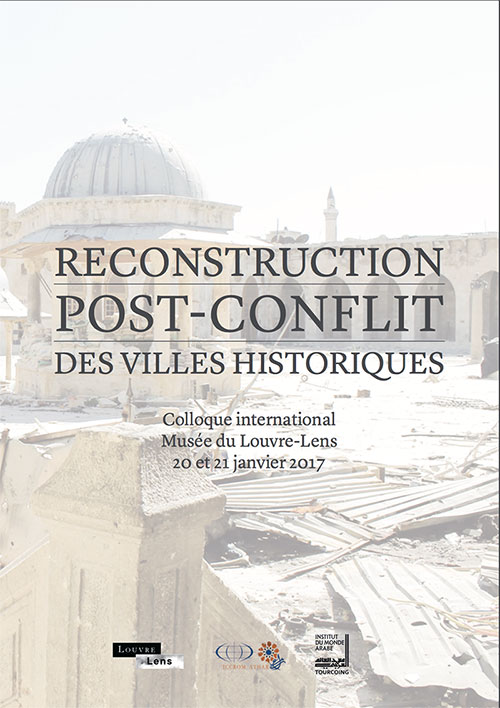 In conjunction with the exhibition "History begins in Mesopotamia" on view until 23 January 2017, and in response to current events in the Middle East, the Louvre-Lens Museum and ICCROM, through its ICCROM-ATHAR Regional Conservation Centre in the UAE, are organising a two-day round-table dedicated to the post-conflict reconstruction of historic cities.
This event, which will take place on Friday 20 and Saturday 21 January 2017 in Lens, aims to bring together international specialists who will address existing cases and develop on the reflections from previous symposia with regards to historic cities affected by war and the process of reconstruction that takes place once the conflict is over.
The first day will be organised around four roundtables: Reflections on Post-conflict Reconstruction; Implementation of International Organisations; Regional Case Studies (France, Poland, Germany, Bosnia); Case Studies from the Middle East (Beirut and Aleppo). This first day will conclude with a summary of that day's accomplishments. The second day will focus on the role of development agencies in the reconstruction process.
---
PAST EVENTS 2017
Council of Europe colloquy on protecting cultural heritage from destruction and trafficking (Strasbourg, 13 January 2017)
On 13 January, high-level representatives from international organisations and national governments, as well as academic experts, will gather in Strasbourg for a colloquium aimed at strengthening cooperation to protect cultural heritage from wanton destruction and preventing the illicit trafficking of cultural goods.
Organised jointly by the Cypriot chairmanship of the Council of Europe's Committee of Ministers and its Secretary General, Thorbjørn Jagland, the event will focus on the illicit excavation, sale and acquisition of cultural property, which has become a lucrative trade often linked to cross-border organised crime and terrorism.
Keynote speakers include Ioannis Kasoulides, the Minister of Foreign Affairs of Cyprus, Irina Bokova, Director-General of UNESCO and Mammoun Abdulkarim, the Director-General of the Directorate General of Antiquities and Museums in Syria and Fatou Bensouda, Prosecutor of the International Criminal Court. Also addressing the event are Hans-Holger Herrnfeld, Chair of the Committee on Offences relating to Cultural Heritage, and Anna Veneziano, the Deputy Secretary-General of UNIDROIT.
The Council of Europe is currently preparing a new Convention on Offences related to Cultural Property, which will become the only international treaty focusing on criminal measures and sanctions on illicit activities in the field of cultural heritage.