UNIDROIT AT IBA WEBINAR ON THE IMPACT OF LOCKDOWN ON INTERNATIONAL AGRICULTURAL TRADE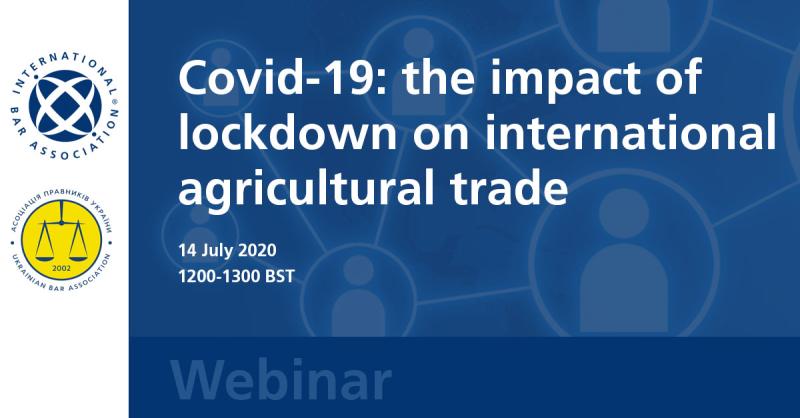 On Tuesday 14 July 2020, Ms Priscila Pereira de Andrade represented UNIDROIT at a webinar presented by the IBA Agricultural Law Committee and the Ukrainian Bar Association, supported by the IBA European Regional Forum, the IBA International Commerce and Distribution Committee and the IBA International Trade and Customs Law Committee, addressing the Impact of Lockdown on International Agricultural Trade. The webinar was aimed at providing insight on the new challenges faced by agricultural business and the international regulation of trade; export and import restrictions in commodities trade and its effect on sale contracts; and quality, safety of goods and international trade in GMO products. It was co-moderated by Sönke Lund (Grupo Gispert, Barcelona; Vice Chair, IBA Alternative and New Law Business Structures Committee) and Sara Moyo (Honey & Blanckenberg, Harare; Co-Chair, IBA Agricultural Law Section). Fellow panellists included Daniela Corona (Luiss Guido Carli University, Rome), Jens Karsten (KWG Rechtsanwälte, Brussels), Ivan Kasynyuk (AGA Partners, Kyiv), Andriana Martyniv (Martyniv Law Firm, Food and Agriculture Organization of the United Nations, Kiev), and Adeniji Oni (Niji Oni & Co, Lagos).
-> Video and further information
UNIDROIT AT OAS WEBINAR ON ACCESS TO CREDIT IN A POST COVID-19 ECONOMY

On Monday 13 July 2020, Deputy Secretary-General, Professor Anna Veneziano participated as a panellist in a webinar organised by the Organization of American States (OAS) discussing mechanisms for the improvement of access to credit in a post Covid-19 economy.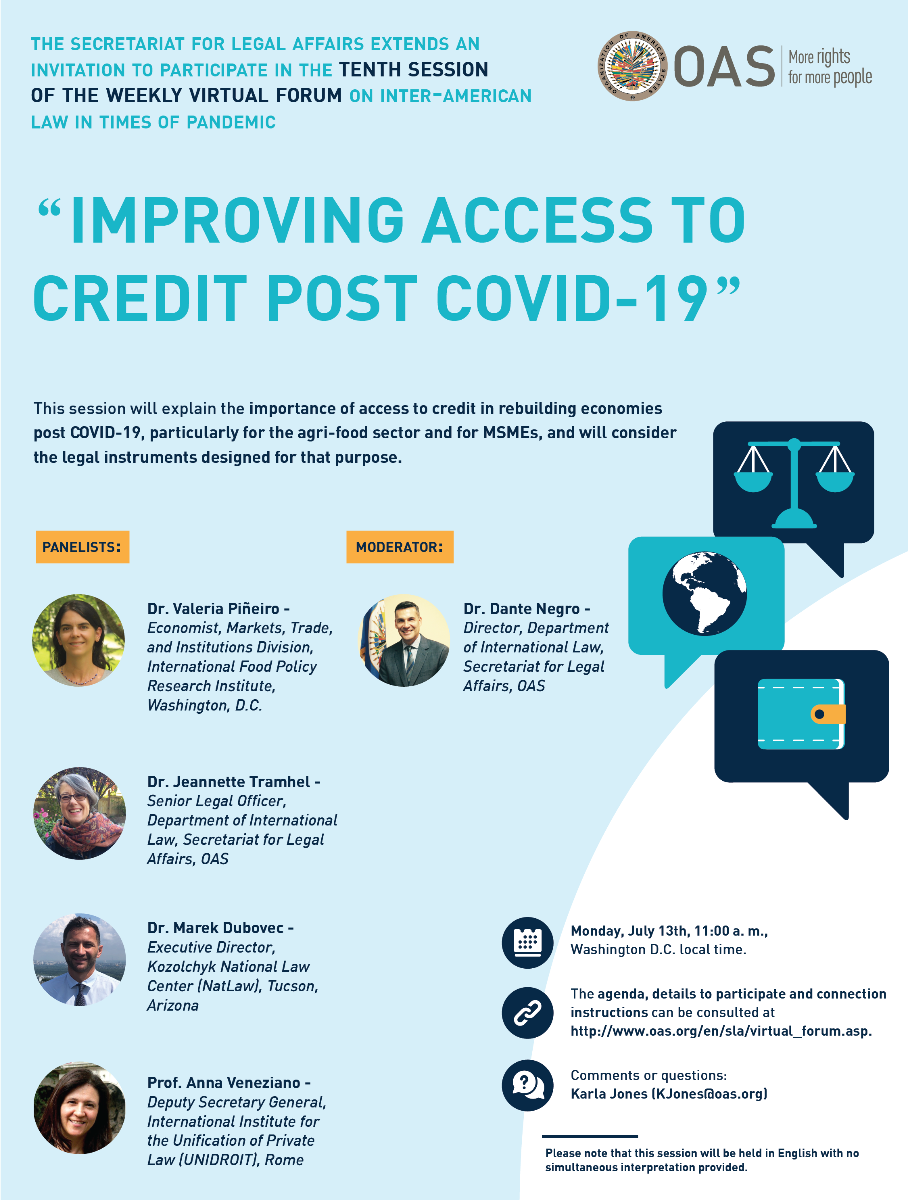 Fellow panellists included Dr. Valeria Piñeiro, (Economist, Markets, Trade, and Institutions Division, International Food Policy Research Institute, Washington, D.C), Dr. Jeannette Tramhel (Senior Legal Officer, Department of International Law, Secretariat for Legal Affairs, OAS), Dr. Marek Dubovec (Executive Director, Kozolchyk National Law Center (NatLaw), Tucson, Arizona), and Dr. Dante Negro (Director, Department of International Law, Secretariat for Legal Affairs, OAS) moderated the session and provided the closing remarks.
-> Video and further information
ONLINE EXPERT MEETING – COMBATTING ILLICIT TRAFFICKING OF CULTURAL PROPERTY DURING COVID-19 – ILLICIT EXCAVATIONS AND ONLINE TRADE