MAC Preparatory Commission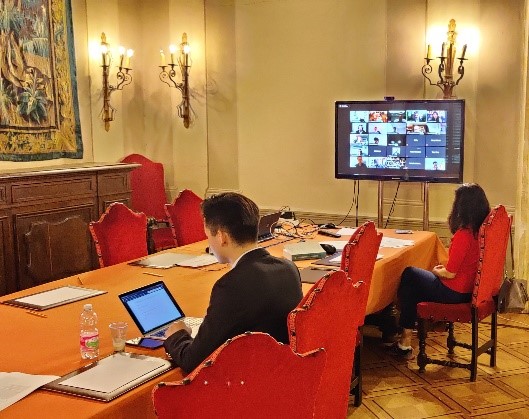 Pursuant to Resolution 1 of the diplomatic Conference for the adoption of the Protocol to the Convention on International Interests in Mobile Equipment on Matters Specific to Mining, Agricultural and Construction Equipment (Pretoria, 11 - 22 November 2019), a Preparatory Commission has been established to act as Provisional Supervisory Authority until the Protocol enters into force. The Preparatory Commission operates under the guidance of the Governing Council and General Assembly of UNIDROIT.
The Preparatory Commission has three key responsibilities:
(a) Selection of a Registrar to operate the MAC Protocol International Registry
(b) Establishment of a Supervisory Authority
(c) Preparation of the first edition of the International Registry Regulations
Customarily, the Preparatory Commission also plays an important role in encouraging States to sign, ratify and implement the Protocol.
Preparatory Commission First session
The first session of the Preparatory Commission took place via videoconference between 21 and 22 May 2020. The Commission was attended by 38 participants from eight Member States of the Commission, one observing State, one observing Regional Economic Integration Organisation, three observing organisations, and ex officio observers from the Diplomatic Conference.
At its first session, the Preparatory Commission negotiated and adopted the Rules of Procedure and considered several issues associated with the future operation of the International Registry. The Commission also established a Working Group to draft a request for proposals for the selection of a Registrar (the Registrar Working Group), as well as a Working Group to develop draft Regulations for the International Registry (the Regulations Working Group). Finally, the Commission extended the period available to the International Finance Corporation (IFC) to accept the role of Supervisory Authority.
The documents for the first session are available below:
Preparatory Commission Second session
The second session of the Preparatory Commission took place on 10-11 December 2020.
The documents for the second session are available below:
[Related documents:
Preparatory Commission Third session
The third Session of the Preparatory Commission took place on 3 and 4 June 2021.
The following documents have been made available for the third session:
[Related documents: