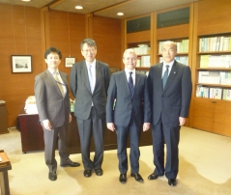 On 16 April 2013, the Secretary-General of UNIDROIT, Mr José Angelo Estrella Faria, visited the Ministry of Justice of Japan, where he was received by the Assistant Vice-Minister and Deputy Director-General for the Civil Affairs Bureau, Mr Osamu Hagimoto, the Director of the Legislative Divion, Mr Osamu Kaneko, Counsellor Yasuhiko Kbayashi and Attorney Ichiro Kono, with whom he discussed various matters related to the co-operation between Japan, stressing the value of Japan's contribution and the importance of its participation in the work of UNIDROIT.
The Secretary-General then paid a visit to Justice Itsuro Terada at the Japanese Supreme Court, who is also a member of the UNIDROIT Governing Council. Accompanied by Professor Hideki Kanda, from the University of Tokyo, the Secretary-General proceeded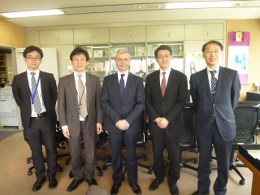 to the Bank of Japan, where he presented the work of UNIDROIT in the area of close out netting of financial instruments to a team of officials lead by Mr Masao Okawa, Associate Director-General and Head of Legal Division and Ms Mikari Kashima, Director and Head of the Legal Studies Group at the Institute for Monetary and Economic Studies of the Bank of Japan.