The UNIDROIT Committee on Emerging Markets Issues, Follow-up and Implementation (CEM) – established at the diplomatic Conference to adopt a Convention on Substantive Rules regarding Intermediated Securities (Geneva, 5-9 October 2009) – held its fourth meeting in Beijing, China, on 29-30 March 2017, at the kind invitation of the China Securities Regulatory Commission (CSRC), which jointly hosted with the China Securities Depository and Clearing Corporation Limited (CSDC). Among the attendees were CSRC Chairman Liu Shiyu; Vice Chairman Fang Xinghai; Member of the UNIDROIT Governing Council and Dean of Law School at the University of International Business & Economics (UIBE) Ms Shi Jingxia; UNIDROIT Secretary-General José Angelo Estrella Faria; Co-Chair of the CEM and Deputy General Manager of CSDC's Beijing Branch Ms Niu Wenjie; and Co-Chair of the CEM and Chief Operating Officer of the Securities and Exchange Commission of Brazil Mr Alexandre Pinheiro Dos Santos.
On the first day of the meeting, a Colloquium on Financial Markets Law was held, with the theme of "Enhancing and Ensuring Legal Certainty in Both Current and Future Holding Systems", during which there were fruitful discussions on a variety of issues related to UNIDROIT's financial markets instruments, the latest developments and relevant legal concerns arising from securities holding systems. The Colloquium also considered how to address the rapid development of financial technology, in particular distributed ledger technologies, in order to enhance the legal certainty of securities holding systems. On the second day of the meeting, the Members and Observers of the CEM reviewed in detail the draft Legislative Guide on Intermediated Securities and ultimately recommended that it be submitted to the UNIDROIT Governing Council for review and adoption at its 96th session (Rome, 10-12 May 2017).
For more information about the fourth meeting, please see (1) the CSRC's press release, which is available in English and Chinese, and (2) UNIDROIT's webpage containing the meeting documents and Colloquium programme at this link.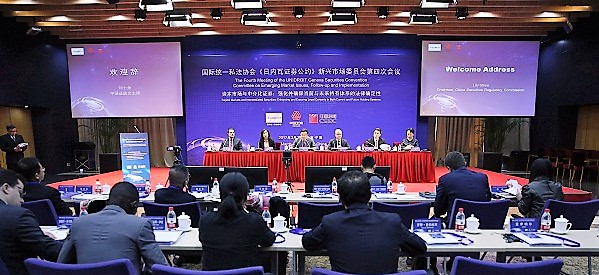 Photo of the opening session of the Colloquium.