The second edition of Lyndel Prott's Commentary on the 1995 UNIDROIT Convention on Stolen or Illegally Exported Cultural Objects was just published with the Institute of Art and Law (ISBN: 978-1-903978-43-8).
This Commentary was prepared by Prof. Lyndel Prott who was deeply involved in the elaboration and adoption of the 1995 UNIDROIT Convention, with the collaboration of Thomas Adlercreutz, Ruth Redmond-Cooper and Marina Schneider.
This Commentary provides not only an article-by-article analysis of the Convention, but also takes account of the many positive developments in the practices of museums and States regarding re-evaluation of the status of objects in collections and, in some cases, return of those objects to their countries of origin. The Convention's influence can be seen in the text of the 2014 EU Directive on the return of cultural objects unlawfully removed from the territory of a Member State, which, in its introductory paragraphs, calls on Member States of the European Union to consider ratification of both the 1970 UNESCO Convention and the 1995 UNIDROIT Convention.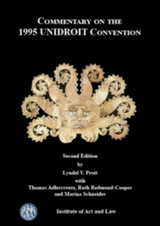 by Lyndel V. Prott
Published in 2021, 160 Pages. ISBN: 978-1-90