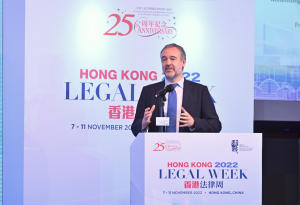 On 9 November 2022, UNIDROIT spoke at the "ASEAN Online Dispute Resolution Workshop: ODR in Facilitating Cross-Border Trade and Investment for ASEAN and Hong Kong Businesses" held in Hong Kong, China. The Workshop included participation from representatives from the Member States and the Secretariat of the Association of Southeast Asian Nations (ASEAN).
UNIDROIT Secretary-General Ignacio Tirado delivered the keynote speech for the Workshop, introducing UNIDROIT and its work, and how UNIDROIT instruments reflect international best practice in providing legal certainty and substantially reducing disputes in cross-border trade and investment.  The Secretary-General presented several instruments that would be of particular value to ASEAN in the areas of private law and agriculture, access to credit (with specific reference to the Cape Town Convention and its Protocols), contracts, and instruments based on technology.  He expressed his hope to continue to establish deeper ties with ASEAN Member States.
UNIDROIT Deputy Secretary-General Anna Veneziano presented during session 2 (International Instruments for Contract Enforcement and ODR). The Deputy Secretary-General highlighted the importance of UNIDROIT's international instruments which would facilitate contract enforcement both at a cross-border and at a domestic level in the ASEAN region, with specific reference to the UNIDROIT Principles on International Commercial Contracts, the UNIDROIT/FAO/IFAD Legal Guide on Contract Farming, and the current UNIDROIT project on Best Practices for Effective Enforcement.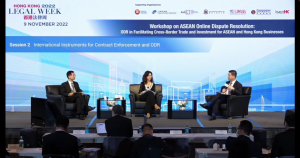 The full program from the Workshop is accessible at:
https://www.legalweek.hk/#11_9_a
See the recording of the Workshop here:
https://www.youtube.com/watch?v=LkLlGDQHX0M&ab_channel=HongKongLegalWeek2022%28English%29