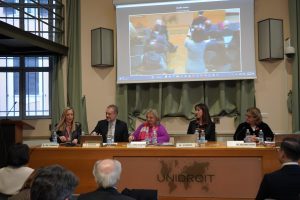 On 6 March 2023, UNIDROIT and the Embassy of the People's Republic of China in Italy co-organised a Conference entitled "Cross-Border Investment Through Transnational Legal Standards" in cooperation with the Italian National Committee of the International Chamber of Commerce (ICC Italia), the Milan Chamber of Arbitration (CAM), the Associazione Italiana per l'Arbitrato (AIA) and the Association of Italian Joint Stock Companies (Assonime).
The conference was organised in honour of a visit to UNIDROIT of a delegation from the Hong Kong Special Administrative Region of the People's Republic of China, led by Deputy Secretary for Justice Mr Horace Cheung, who delivered a keynote speech at the conference following introductions by the Ambassador of China to Italy, His Excellency Jia Guide, and UNIDROIT President Professor Maria Chiara Malaguti.
The first part of the Conference following the Keynote featured speeches delivered by the supporting organisations,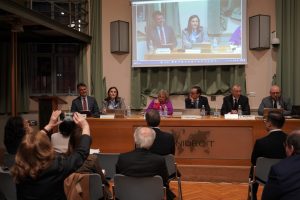 namely Professor Giuditta Cordero-Moss representing CAM as an Arbitral Council Member, Professor Barbara De Donno, Secretary General of ICC Italia, and Ms Margherita Bianchini, Deputy Director General, Head of Corporate Legal Affairs of Assonime, and UNIDROIT Secretary-General Professor Ignacio Tirado. The second part of the conference featured a panel moderated by Professor Andrea Carlevaris (President of AIA) on the point of view of the business and arbitration community, including Ms Caterina Bernardini De Pace (General Manager, the I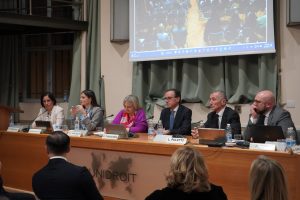 talian Chamber of Commerce of Hong Kong and Macao), Mr Gianluca Mirante, (Director, Hong Kong Trade Development Council), Mr Michele Ius (Head of Contracts, Financing and Contracting Danieli & C. Officine Meccaniche S.p.A.), Mr Luca Puletti (General Counsel, Ghella S.p.A.) and Ms Elisabetta Pagnini (Group General Counsel, Intesa San Paolo).
Following discussion with the audience and conclusions delivered by President Malaguti, the participants attended a reception served in the stately rooms of Villa Aldobrandini.
Promoting Cross-Border Investment Through Transnational Legal Standards_ Programme 6 march