Introduction
Factoring is a vitally important type of financing used across the globe. In 2019, global factoring volume reached 2.9 trillion euros. While Europe accounts for majority of the world's domestic volume of factoring (67%), new markets account for the highest growth in factoring volume, with the leading regions being the Middle East (12.4%), Africa (10.8%) and South America (8.9%).
Evolution of Global Factoring Volume (in Euro billions)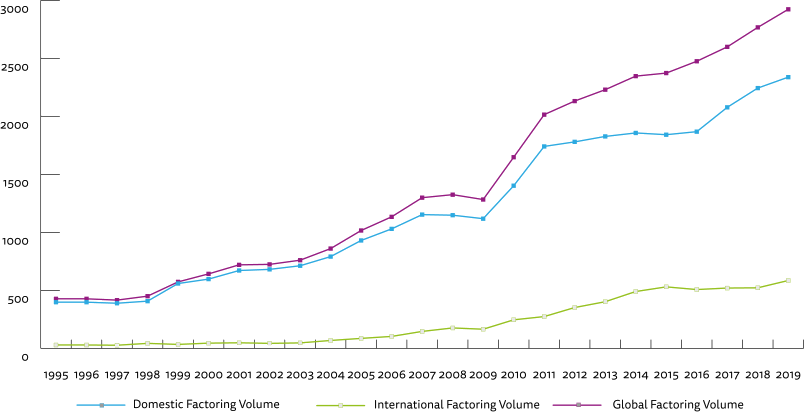 Source: FCI, Industry Statistics (accessed 3 August 2020).
In 1988 the UNIDROIT Convention on International Factoring was adopted in Ottawa, Canada. The Factoring Convention entered into force in 1995 and has been ratified by 9 States. However, international factoring represents only 21% of global factoring volume, whereas domestic factoring accounts for 79%. Despite the growing importance of factoring, no intergovernmental organisation has adopted a factoring model law to assist States in undertaking reforms to improve their domestic legal frameworks.
Background
In December 2018, as a proposal for the UNIDROIT 2020-2022 Work Programme, the World Bank suggested that Unidroit develop a Model Law on Factoring. The World Bank proposal highlighted three reasons why a UNIDROIT Model Law on Factoring should be developed:
i. The use of factoring as an important form of financing increasing access to credit;
ii. Ongoing constraints in access to credit as a limit on economic growth, particularly in
developing countries and emerging markets; and
iii. The gap that currently exists in international rules and standards regarding factoring.
The proposal noted that existing instruments largely focus on international or cross-border
transactions and do not provide sufficient guidance to States to develop functional
domestic factoring frameworks.
At its 98th session in May 2019, the UNIDROIT Governing Council approved the project for the 2020-2022 Triennial Work Programme as a high priority project.
The purpose of the Model Law is to provide an instrument for States that want to introduce a new factoring law or update their existing laws but are not yet in a position to undertake a comprehensive secured transactions law reform. The instrument will consist of a set of black letter rules, accompanied by a limited commentary on each rule to explain its operation.
The Factoring Model Law will be carefully coordinated with UNCITRAL's work in this field, in particular the United Nations Convention on the Assignment of Receivables in International Trade (2001), the UNCITRAL Legislative Guide on Secured Transactions (2007) and the UNCITRAL Model Law on Secured Transactions (2016).
The Factoring Model Law Working Group
As consistent with the Institute's established working methodology, the Factoring Model Law is being developed by a Working Group composed of international legal experts representing different legal systems. The Working Group is chaired by member of the Governing Council Professor Henry Gabriel and is composed of the following experts:
i. Henry Gabriel (Chair) (United States)
ii. Giuliano Castellano (Italy)
iii. Neil Cohen (United States)
iv. Michel Deschamps (Canada)
v. Alejandro Garro (Argentina)
vi. Louise Gullifer (United Kingdom)
vii. Megumi Hara (Japan)
viii. Cathy Walsh (Canada)
ix. Bruce Whittaker (Australia)
In addition, several international, regional and private organisations with expertise in factoring have been invited to observe the Working Group:
i. The World Bank Group
ii. The United Nations Commission for International Trade Law (UNCITRAL)
iii. The Kozolchyk National Law Centre (NatLaw)
iv. The European Bank for Reconstruction and Development (EBRD)
v. The Organization of American States (OAS)
vi. The African Export-Import Bank (AFREXIMBANK)
vii. Organisation for the Harmonisation of Business Law in Africa (OHADA)
viii. Industry Groups
a. Factors Chain International (FCI)
b. International Chamber of Commerce Banking Commission (ICC)
c. Secured Finance Network (SFN)
d. World of Open Account (WOA)
First Working Group Meeting (1 – 3 July 2020)
The first session of the Working Group took place via videoconference between 1 and 3 July 2020. The Working Group was attended by 32 participants, comprising of (i) 9 Working Group Members, (ii) 18 observers from six international, regional and intergovernmental organisations, four industry associations and academia and (iii) 5 members of the UNIDROIT Secretariat.
The documents for the first meeting can be found below:
Second Working Group Meeting (14 – 16 December 2020)
The Second Session of the Working Group took place on 14-16 December 2020.
The following documents for the second meeting can be found below:
Third Working Group Meeting (26 – 28 May 2021)
The Third Session of the Working Group will take place on 26-28 May 2021.
The following documents have been made available for the third session: