Paragraph 31 of the New Delhi Leaders' Declaration adopted on 9 September 2023 puts culture in the driver's seat towards the achievement of sustainable development goals (SDGs). The declaration calls for full recognition and protection of culture, with its intrinsic value, as a transformative driver and enabler for the achievement of SDGs.
Indian Prime Minister Narendra Modi appears on a screen as he attends
"Session II: One Family" at the G20 summit in New Delhi, India, Sept. 9, 2023. (AP/PTI)
In the document, the G20 leaders also reiterated their "commitment to strengthen the fight against illicit trafficking of cultural property at national, regional or international levels" and to enable its return and restitution to their countries and communities of origin as relevant. India had proposed "restitution of cultural heritage" as part of the G20 culture track agenda during India's Presidency and called for the inclusion of culture as a standalone goal towards a post-2030 development agenda.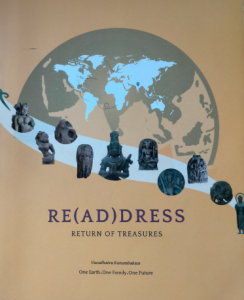 In fact, prevention of illegal trafficking of antiquities and the return of such objects has been among the main themes of the deliberations of the culture working group, through its four meetings – starting with Khajuraho in February, followed by Bhubaneswar in May, Hampi in July, and finally, the ministerial held in August in Varanasi. To highlight this, the Ministry of Culture had organised an exhibition titled 'Re(ad)dress: Return of Treasures', on the sidelines of the Khajuraho meet, showcasing 26 artefacts that have returned to India after being stolen and smuggled abroad.
The G20 Leaders' Declaration enshrines the priorities and aspirations outlined in the Outcome Document of the Culture Ministers' Meeting – the 'Kashi Culture Pathway'.
UNIDROIT had the privilege to be invited to participate in the work of the G20 Working Group Culture – and Ministerial Meeting – which focussed on four priority areas: 1) Prevention and restitution of cultural property; 2) Harnessing Living Heritage for a Sustainable Future; 3) Promotion of Cultural and Creative Industries, and Creative Economy and 4) Leveraging Digital Technologies for Protection and Promotion of Culture.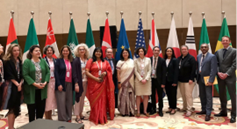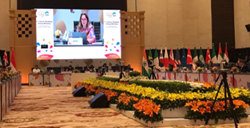 The 'Kashi Culture Pathway' called for "a strengthened and effective global coalition to bolster the fight against the illicit trafficking of cultural property, particularly by encouraging the ratification and effective implementation of international agreements and conventions as relevant – notably [….] the UNIDROIT Convention on Stolen or Illegally Exported Cultural Objects (1995) […] while also ensuring progress and better implementation of international standards, in close cooperation with relevant organizations including UNESCO, ICCROM, ICOM, ICOMOS and UNIDROIT". It also "welcome[d] progress made at national, regional or international levels towards resolving issues and enabling the return and restitution of cultural property to their countries and communities of origin, particularly through bilateral dialogue and multilateral mechanisms provided by UNESCO and UNIDROIT as appropriate. We call for sustained dialogue and action in that endeavour at the bilateral and multilateral levels, with a view to strengthen cultural diplomacy and intercultural exchanges, in particular by: […] supporting an open and inclusive dialogue on the return and restitution of cultural property".
New Delhi Leader's Declaration
https://www.mea.gov.in/Images/CPV/G20-New-Delhi-Leaders-Declaration.pdf
Kashi Culture Pathway
https://www.g20.org/content/dam/gtwenty/gtwenty_new/document/2–new/G20_Culture_Ministers_Meeting_Outcome_Document_and_Chairs_summary.pdf
G20 Culture Shaping the Global Narrative for Inclusive Growth
indiaculture.gov.in/sites/default/files/G20/REV_G20_Thematic_Webinars_Report_2023_India_FINAL_05092023.pdf