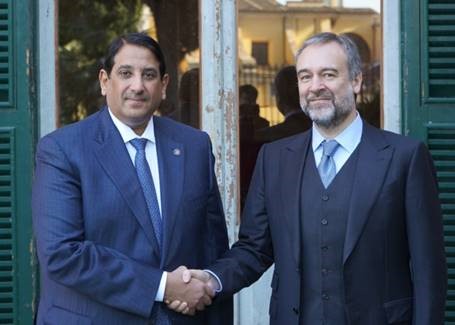 On 8 January 2020, the Ambassador of the State of Qatar in Italy, His Excellency Mr Abdulaziz Bin Ahmed Al Malki Al Jehani, visited UNIDROIT to deposit Qatar's instrument of accession to the Convention on International Interests in Mobile Equipment and to the Protocol on Matters specific to Aircraft Equipment to the Secretary-General of UNIDROIT, Professor Ignacio Tirado.
Qatar becomes the 80th Contracting State of the Cape Town Convention, and the 77th Contracting State of the Aircraft Protocol.
The State of Qatar made declarations under Articles 39(1)(a), 39(1)(b), 40, 53 and 54(2) of the Convention, and under Article XXX(1), XXX(2) and XXX(3) of the Aircraft Protocol. The Convention and the Aircraft Protocol will enter into force for the State of Qatar on 1 May 2020.
-> Depositary Functions of UNIDROIT (Cape Town Convention)
-> Depositary Functions of UNIDROIT (Aircraft Protocol)