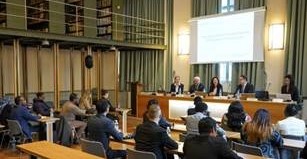 On 28 November 2019, the UNIDROIT Secretariat welcomed a group of 22 graduate students from the Loyola University Chicago School of Law's Rule of Law for Development Program (PROLAW) 2019-2020 for a morning of guest lectures at its seat in Rome.
The visit took place as part of a series of academic excursions organised by the PROLAW Program to Rome-based international organisations working in the field of law and development. The group was accompanied by the PROLAW Director and Senior Lecturer William T. Loris.
The Deputy Secretary-General of UNIDROIT, Professor Anna Veneziano, welcomed the guests and expressed her appreciation for the very fruitful and ongoing cooperation between PROLAW and UNIDROIT.
This was followed by a series of presentations on "Introduction to UNIDROIT", "The Cape Town Convention and the fourth Protocol on Matters Specific to Mining, Agricultural and Construction Equipment (MAC Protocol)", and "Private Law and Agriculture" by Legal Officers Mr Carlo Di Nicola and Ms Philine Wehling. Lastly, Assistant Professor Yixin Xu, Southwest University of Political Science & Law, a Research Scholarship recipient, presented the UNIDROIT internship and research scholarship programmes.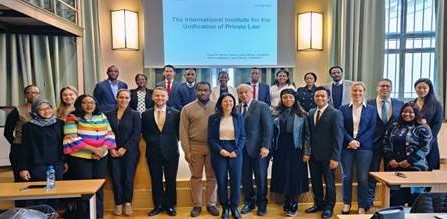 The presentations were followed by a Q&A session, which reflected the students' high level of knowledge of both the subject-matters covered as well as the practical challenges of how to shape and implement new international legal instruments.