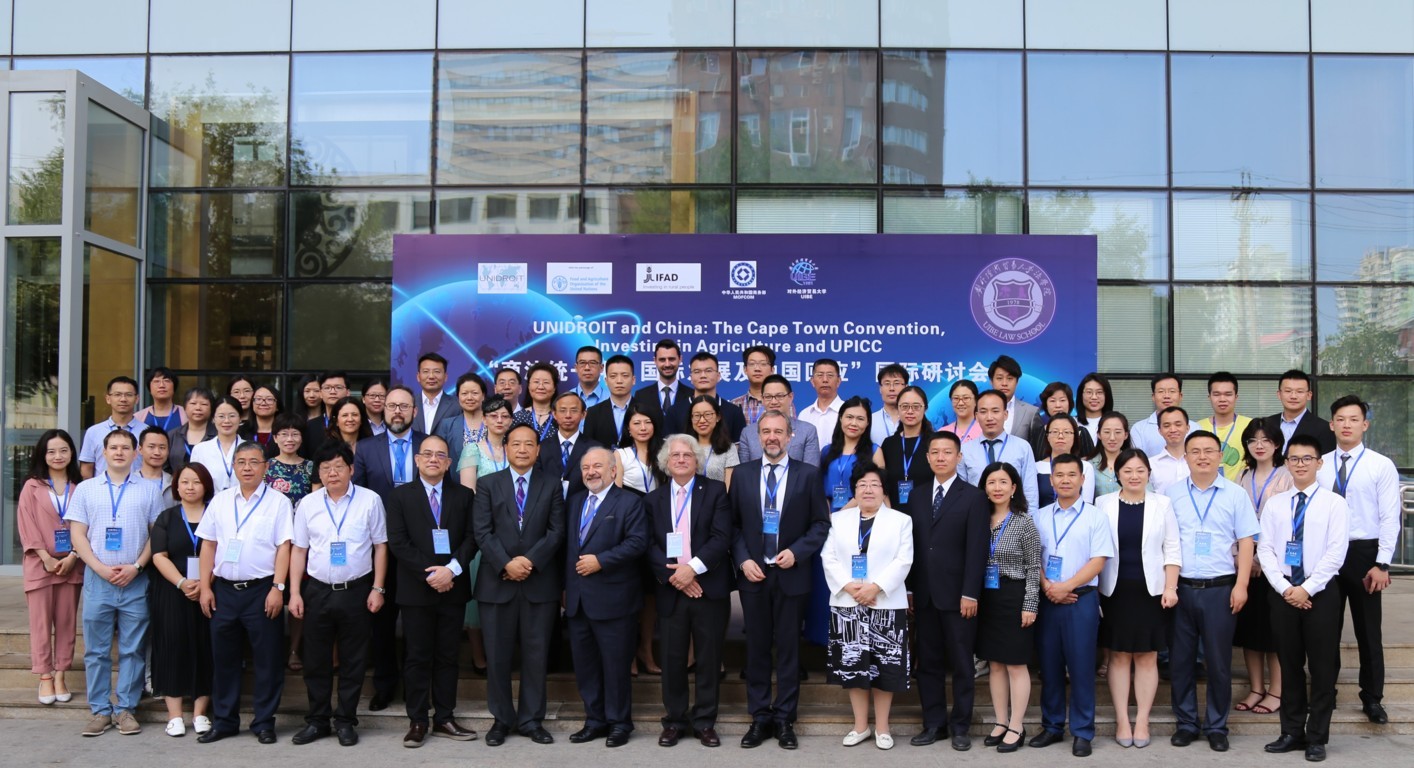 On 8 – 9 July 2019, UNIDROIT participated in a high-level conference entitled "UNIDROIT and China: The Cape Town Convention, Investing in Agriculture and UPICC", hosted by the University of International Business and Economics (UIBE) in Beijing.
The conference was co-sponsored by the United Nations Food and Agriculture Organization (FAO), the International Fund for Agricultural Development (IFAD) and the Ministry of Commerce of the People's Republic of China (MOFCOM). The event brought together Governmental representatives, academics, legal experts, international organisations and private sector stakeholders to examine a range of Unidroit instruments and their legal and economic impact in China. In particular, the conference focused on the Convention on International Interests in Mobile Equipment (Cape Town Convention), the Luxembourg Rail Protocol and future Mining, Agricultural and Construction (MAC) Protocol, the UNIDROIT-FAO-IFAD Legal Guide on Agricultural Land Investment Contracts (ALIC) currently under development, the UNIDROIT-IFAD-FAO Legal Guide on Contract Farming and the UNIDROIT Principles on International Commercial Contracts.
The Conference involved a range of speakers and participants, including Ye Jun from the Department of Law and Treaties within MOFCOM, Unidroit Secretary-General Ignacio Tirado, Deputy Secretary-General Anna Veneziano, Governing Council Member and Dean of the UIBE Law School Shi Jingxia, Governing Council Member Henry Gabriel, former Governing Council Member Zhang Yuejiao and former Governing Council Member Zhang Yuqing.
A highlight of the conference was the release of the Chinese version of the 2016 edition of the UNIDROIT Principles of International Commercial Contracts. A donation of the new publication to UIBE Law School was made by Guo Zhouming, President of the Commerce and Trade Press and Chief Editor of "International Trade".
The Conference manual, including the agenda is available here.