On 15 December 2022, as a side event to the 81st session of the General Assembly, UNIDROIT invited Legal Advisers from its Member States, CAHDI National Representatives, and Observers to attend a seminar on Soft Law in International Governance.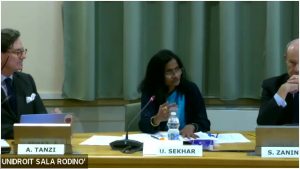 It was opened by UNIDROIT President Professor Maria Chiara Malaguti (Professor of International Law at the Faculty of Economics of the Università Cattolica del Sacro Cuore), Min. Plenipotentiary Stefano Zanini (Head of Service for Legal Affairs, Diplomatic Disputes & International Agreements, Ministry of Foreign Affairs and International Cooperation of Italy), and Ms Uma Sekhar (Additional Secretary and Legal Adviser, Indian Ministry of External Affairs) .
The first session, Chaired by Ms Uma Sekhar, saw presentations by
Prof. Attila Tanzi (Professor of International Law at the Faculty of Law of the University of Bologna and President ILA Italy), Prof. Makane Moïse Mbengue (Professor of International Law at the Faculty of Law of the University of Geneva and President of the African Society of International Law), and Prof. Maria Chiara Malaguti, who respectively spoke about Soft law instruments in international law making, with special regard to environmental protection, Soft Law in International Economic Law, and Soft Uniform Law and its implementation in domestic legal orders.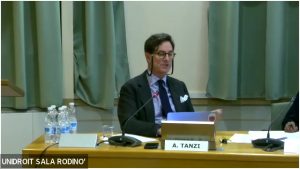 The second, more interactive session of the seminar, was introduced by Minister Zanini and addressed the Practical Challenges of the Interpretation, Implementation and Monitoring Of Soft Law from the point of view of a Legal Adviser to the Ministry of Foreign Affairs. A lively debate ensued among the participants from various Ministries of Foreign Affairs.
About 60 delegations in total registered for the event with about 80 attendees both online and in person, all contributing to kick off a high-level dialogue between Legal Advisors to identify and highlight common issues and concerns and share experiences which might lead to a common understanding and elaborate shared solutions in future.