UNIDROIT is delighted to announce that Mongolia formally acceded to the UNIDROIT Statute on 21 April 2023 and has designated the Ministry of Justice and Internal Affairs of Mongolia as National Authority and contact point for the Institute.
On 3 May 2023, Her Excellency, Ms Tserendorj Narantungalag, Ambassador Extraordinary and Plenipotentiary of Mongolia in Italy visited UNIDROIT to mark this important event. Ms Tserendorj Narantungalag was received together with Ms Delgerjargal Ganbold, First Secretary of the Embassy of Mongolia in Italy, by the Secretary-General of UNIDROIT, Professor Ignacio Tirado, Deputy Secretary-General of UNIDROIT, Professor Anna Veneziano, and Principal Legal Officer & Treaty Depositary, Ms Marina Schneider.
On this occasion, Her Excellency Ms Tserendorj Narantungalag recalled that Mongolia adopted the resolution to join UNIDROIT on 29 March 2023 and stressed that "this is an important milestone to further strengthen and develop the cooperation between Mongolia and UNIDROIT". UNIDROIT's Secretary General underscored the importance of increasing the Institute's presence in Central Asia, and happily welcomed Mongolia as a leader in legal reform in the region. "I am certain" -he said- "that our collaboration with the Government of Mongolia is going to be a most fruitful one".
With Mongolia, UNIDROIT now counts 65 Member States and up to 127 so-called connected States, which have benefited from acceding to UNIDROIT's instruments.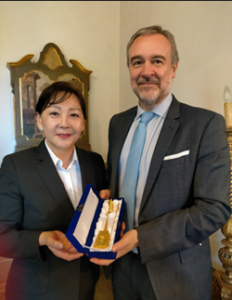 Her Excellency Ms Tserendorj Narantungalag, Ambassador Extraordinary and Plenipotentiary of Mongolia in Italy, and Professor Ignacio Tirado, Secretary General of UNIDROIT
From right to left: Ms Delgerjargal Ganbold, First Secretary of the Embassy of Mongolia in Italy, Professor Ignacio Tirado, Secretary General of UNIDROIT, Her Excellency Ms Tserendorj Narantungalag, Ambassador Extraordinary and Plenipotentiary of Mongolia in Italy, Professor Anna Veneziano, Deputy Secretary General of UNIDROIT and Ms Marina Schneider, Principal Legal Officer & Treaty Depositary