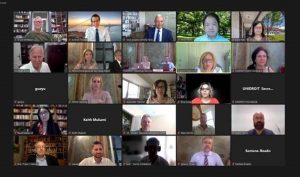 On 1-3 September 2021, the Working Group on a Model Law on Warehouse Receipts, chaired by Governing Council member Professor Eugenia Dacoronia, held its third session in a hybrid format, with experts participating remotely and others participating in person in the Institute.
The Group discussed the preliminary drafting suggestions for three chapters of the future Model Law, namely Chapter I "Scope and general provisions"; Chapter II "Issuance of a warehouse receipt"; and Chapter IV "Transfer of warehouse receipts. Protected holders and other transferees. Warranties. Miscellaneous provisions regarding transfer". Furthermore, the Group reviewed the topic of electronic warehouse receipts in more detail. This included the technological solutions deployed and implemented for electronic warehouse receipts, including their issuance and transfer; the different models regarding the concept of control; and the issue of information accessibility. The report of the third session will be available online in due course.
The fourth Working Group session is tentatively planned for the first quarter of 2022.
 -> Agenda
-> More information about the project