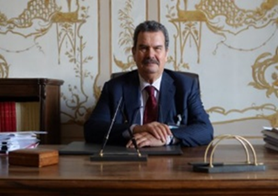 It is with great sadness that UNIDROIT announces  the passing of our President, Professor Alberto Mazzoni, in the early afternoon of Monday 6 May 2019.
Professor Mazzoni was 76, but had unparalleled energy and enthusiasm. His love and dedication for our Institute will remain as an example, and his legacy shall be remembered through the decades.
As we mourn the loss of our President, our thoughts go out to his wife Mona, his daughters Ulrika and Teresa, his son Matteo, and his family and many close friends.
We have lost an extraordinary President; but, above all, we have lost a profoundly decent human being and an unforgettable friend.

 Tribute of the Secretary-General at the opening of 98th session of the Governing Council