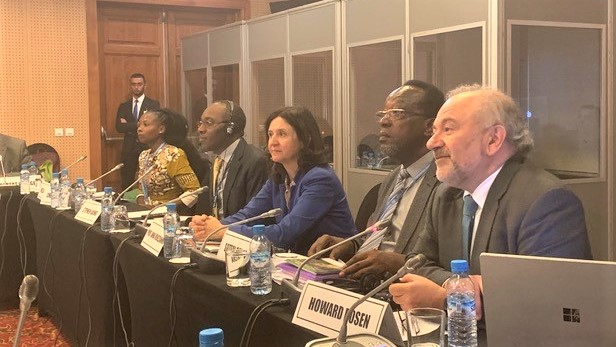 On 23 March 2019, UNIDROIT was invited to participate in a High Level Seminar entitled "Railway rolling stock financing: a new solution for Africa" in Marrakech, organised by the UN Economic Commission  for Africa.
The seminar was included as a Side Event at the 52nd conference of UNECA which UNIDROIT was invited to attend as Observer.
Deputy Secretary – General Professor Anna Veneziano shared the introductory addresses on a panel moderated by the Chief of ECA Energy, Infrastructure and Services Team Mr Robert Lisinge, together with UNECA Director of Regional Integration and Trade Division Mr Stephen Karingi, followed by presentations by Rail Working Group Chairman Mr Howard Rosen, Senior Economic Affairs Officer Energy, Infrastructure and Services Section of UNECA Mr Soteri Gatera and CEO of the RailRoad Association Ms Mesela Nhlapo. The objective of the event, attended by high level governmental officials and private sector representatives, was to discuss Rail financing in Africa and how the Luxembourg Rail Protocol will play a key role in attracting private capital to create a sustainable model for existing and new rail projects in the context the 2030 Agenda for sustainable development and Agenda 2063. The Deputy Secretary-General also attended as Observer part of the Expert Commission on Friday 22 discussing inter alia the Rail Protocol and the Ministerial Commission on Monday 25.
-> Read more about the Rail Protocol