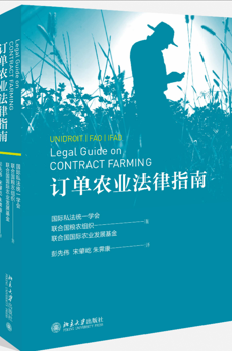 The UNIDROIT/FAO/IFAD Legal Guide on Contract Farming in Chinese (Mandarin) –《订单农业法律指南》 – has just been released.
Translated under the supervision of Mr Philip Peng 彭先伟/ – Partner, DeHeng Law Offices, it is published under ISBN 978-7-301-30142-5 by Peking University Press. Copies may be ordered from Peking University Press, or at http://yandayuanzhao.com/itemDetail.php?BOOK_ID=834.
The Chinese version of the Legal Guide will be launched at a public event to be held in Beijing soon, and will provide a basis for the preparation of implementation tools and public policies in China.