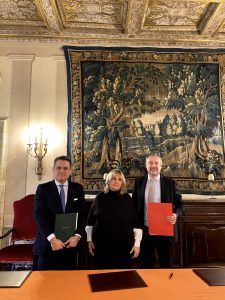 On 20 January 2023, the Kingdom of Spain, which is already a Party to the Cape Town Convention and the Aircraft Protocol, deposited its instrument of ratification of the Luxembourg Rail Protocol, with declaration under Articles XIII, XIV (2)-(3), XXIV, XXV and XXVI. The Luxembourg Rail Protocol has now reached the fourth ratification and is ready to enter into force as soon as the conditions set out in Article XXIII(1) of the Rail Protocol have been satisfied.
His Excellency, Mr Miguel Ángel Fernández-Palacios Martínez, Ambassador Extraordinary and Plenipotentiary of the Kingdom of Spain in Italy, and Mr Moisés Morera Martín, First Secretary of the Embassy of the Kingdom of Spain in Italy, participated in a ceremony to celebrate the deposit of the ratification instrument of the Luxembourg Protocol at the seat of UNIDROIT. The delegation was received by the President of UNIDROIT, Professor Maria Chiara Malaguti and the Secretary-General of UNIDROIT, Professor Ignacio Tirado.
On this occasion, Professor Ignacio Tirado made the following statement: "Spain's ratification is a momentous occasion. The fourth ratification has been achieved, and by means of a country with enormous relevance in the rail sector. Everything is now aligned for the treaty to come into force, and, with it, the development of the rolling stock sector will be taken to the next level. It is indeed great news for those who believe that economic growth must be based on environmental sustainability".
Further details about the Luxembourg Protocol and the Cape Town Convention are available at:
– "Depositary Functions of UNIDROIT – Luxembourg Rail Protocol"
– "Depositary Functions of UNIDROIT – Cape Town Convention"