On 2 July 2018, the Kingdom of Sweden, which is already a Party to the Cape Town Convention and the Aircraft Protocol, deposited its instrument of ratification of the Luxembourg Rail Protocol, with a declaration under Article XXVII(1). The Luxembourg Rail Protocol will enter into force when the conditions set out in Article XXIII(1) of the Rail Protocol have been satisfied.
Minister Counsellor of the Embassy of the Royal Kingdom of Sweden in Italy, Mr Fredrik Alfer, and Deputy Director of the Ministry of Justice of Sweden, Ms Louise Petrelius, participated in a ceremony to celebrate the deposit of the ratification instrument of the Luxembourg Protocol at the seat of UNIDROIT. The delegation was received by the President of UNIDROIT, Professor Alberto Mazzoni, Secretary-General a.i. of UNIDROIT, Prof. Anna Veneziano and Ms Marina Schneider, Senior Legal Officer and Treaty Depositary. The ceremony took place before First Secretary and Vice Consul of the Embassy of Luxembourg Mr André Flammang, as well as members of the Rail Working Group and Ratification Task Force.
The following statement of Heléne Fritzon, Minister for Migration and Deputy Minister for Justice, was read aloud on this occasion: "The foreseeability that the Luxembourg Rail Protocol provides for creditors is expected to increase the access to private capital and give railway undertakings more favourable economic conditions. Cheaper and wider financing options make it easier for train operators to invest and the rail sector is strengthened, which is good for the environment and for consumers." President Mazzoni, in his statement, underlined that "UNIDROIT is very satisfied with this important step towards the implementation of the Rail Protocol, which further enhances the recognition of the tangible economic advantages it will produce world-wide for the industry as well as for States in terms of sustainable development".
Further details about the Luxembourg Protocol and the Cape Town Convention are available at:
– "Depositary Functions of UNIDROIT – Luxembourg Rail Protocol"
– "Depositary Functions of UNIDROIT – Cape Town Convention"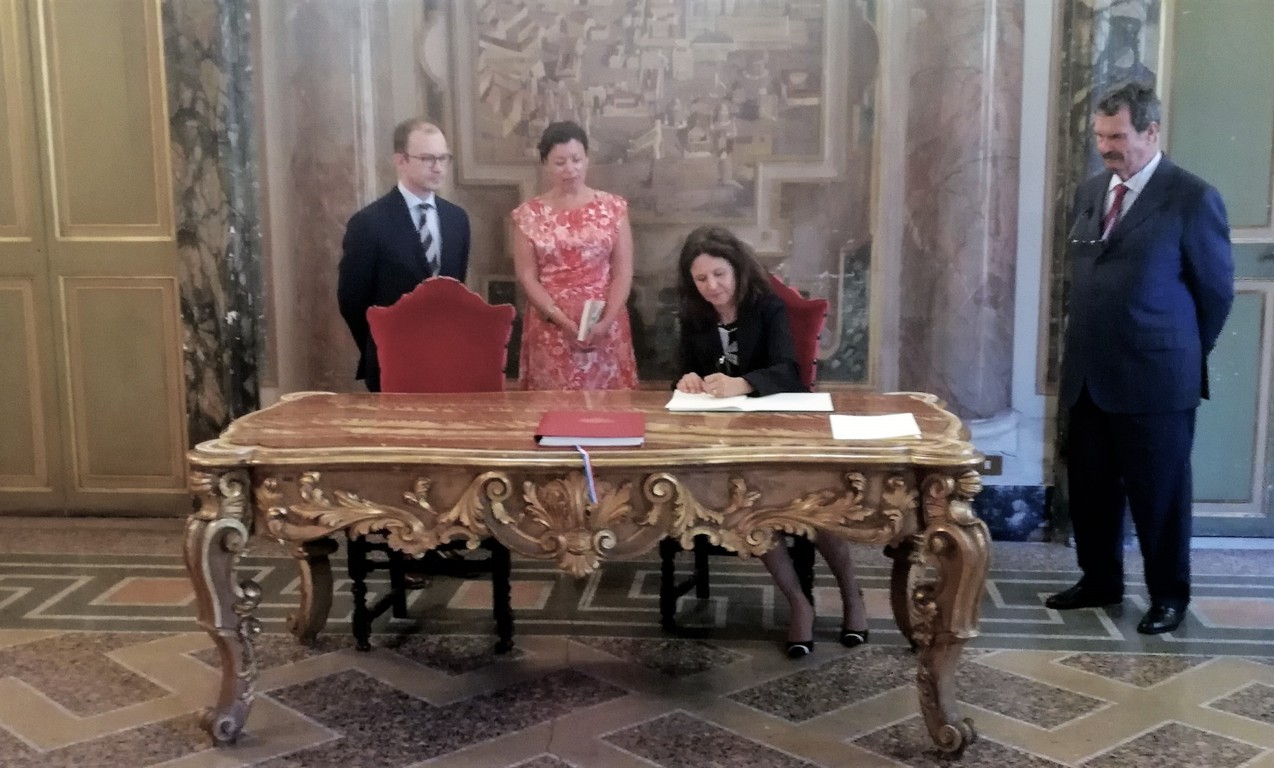 From left to right: Bjoern Frederik Alfer (Minister Counsellor, Embassy of the Royal Kingdom
of Sweden in Italy), Louise Petrelius (Deputy Director, Ministry of Justice of Sweden),
Anna Veneziano (Secretary-General a.i., UNIDROIT), Alberto Mazzoni (President, UNIDROIT).