On 9 June 2023, Professor Maria Chiara Malaguti, President of UNIDROIT, delivered the Keynote Lecture at the International Aviation and Space Finance Law Symposium co-hosted by CBFL and the McGill Institute of Air and Space Law. She spoke about "The Cape Town Convention as a Modern International Regime for Financing and Leasing in the Aviation and Space Sector", exploring the key challenges and developments within the Cape Town Convention treaty system, providing insights into the evolving landscape of this field.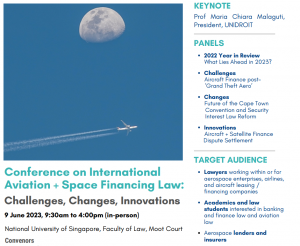 In addition to the keynote lecture, the Conference featured opening remarks by Professor Andrew Simester, Dean of NUS Law, Singapore; Associate Professor Dora Neo, Director of the Centre for Banking & Finance Law (CBFL), NUS Law, Singapore; and Associate Professor Donal Hanley, Interim Director of the Institute of Air and Space Law (IASL), McGill University, Canada.
Another component of the Conference featured a supplementary presentation entitled "Frontiers of International Asset Finance: Drones, Spaceships, and the Cape Town Convention" delivered by Mr Stefan-Michael Wedenig, Executive Director of the Institute and Centre of Air and Space Law, and Mr Jack Wright Nelson, Editor of the Annals of Air and Space Law.
The Conference gathered participants from different backgrounds, such as legal professionals, academics, industry experts, and Government representatives.
The Programme of the Conference is available here 
For more information on the supplementary presentation click here