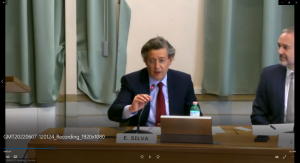 On 7 June 2022, as an opening event for the UNIDROIT Governing Council, the ICC Institute of World Business Law (ICCWBO) and UNIDROIT hosted a joint workshop showcasing a project proposal that had been made to the UNIDROIT Governing Council for consideration in the 2023-2025 Work Programme on the UNIDROIT Principles of International Commercial Contracts on matters specific to Investment Contracts.
After a formal signing ceremony of a Memorandum of Understanding between the two organisations, the event was opened by UNIDROIT President Maria Chiara Malaguti and Secretary-General Tirado, as well as the Eduardo Silva and Sybille de Rosny-Schwebel , respectively President and Director of the ICCWBO. A first panel addressed the content of the project, presented by Ignacio Tirado, Eduardo Silva and commented by Governing Council member and ICCWBO member José Antonio Moreno Rodriguez and Sybille de Rosny-Schwebel (Director, ICCWBO).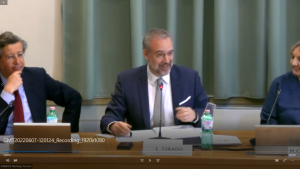 The doyen of the UNIDROIT Governing Council Arthur Hartkamp Chaired a second panel on the topic of Investment Contracts and Contract Law, which featured practical presentations and details examples provided by Giuditta Cordero Moss (Head of International Commercial Law University of Oslo), and Cristina Martinetti (Council member, ICCWBO). President Malaguti chaired a third panel addressing Investment Contracts and Foreign Investment Law, which featured Attila Tanzi (Professor of Law, University of Bologna , Chair of Italian Branch of International Law Association), and Eduardo Silva.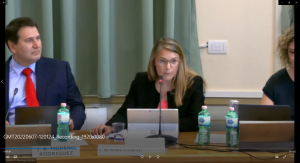 Following an interesting exchange of views and having gathered important insights for the Council to consider prior to its deliberations on the Work Programme for the 2023-25 Triennium, the conclusions were delivered by Maria Chiara Malaguti, Eduardo Silva, and José Antonio Moreno Rodriguez.
Transnational Law and Investment Contracts_Programme