On 22 June 2023, Professor Maria Chiara Malaguti, President of UNIDROIT, and Professor Domenico Laforgia, President of Acquedotto Pugliese (AQP), signed a Memorandum of Understanding (MoU) at Palazzo dell'Acqua in Bari, Italy. The MoU aims to facilitate close co-operation between UNIDROIT and AQP in terms of research, capacity building and the sharing of resources and experience, and it envisages the implementation of joint projects concerning the private law aspects related to water and wastewater services in developing countries.
"While our aim is to work towards the unification of norms, laws and contractual instruments, our general objective is to bring cultures closer together", underlined Professor Malaguti.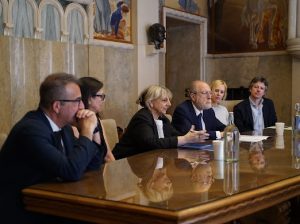 "To this end, we interact and collaborate with States, universities and institutions – from today on also with Acquedotto Pugliese – based on mutual sensitivity for sustainability issues." She explained how unifying and harmonising legal systems allowed for communication and overcoming barriers between communities, stating that it would allow for the implementation of projects across communities with a single language, respectful of cultures and different legal systems.
Professor Laforgia highlighted that accessibility to and the safety of water resources are the prerequisites for the sustainable development of entire populations and communities. He noted, "Our expertise has always been made available to international bodies in order to face, together, the challenges associated with the availability of water resources and, more recently, also to face the challenges associated with climate change".
The speech of Professor Malaguti can be found here: https://drive.google.com/file/d/1DENYLrs-A2nkMT9WI_KUTgUftGBZApQd/view?usp=drive_link
The speech of Professor Laforgia can be found here: https://drive.google.com/file/d/1GrcatpMmAYBbW1dxz4HzLnipb5ikbkk9/view?usp=drive_link