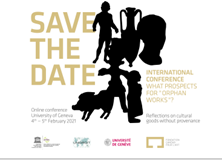 The University of Geneva, UNIDROIT and the Fondation Gandur pour l'Art are organising a conference on 4 and 5 February 2021 on the theme of "Orphan Works".
We will thus hear about archaeological and ethnographic objects, and more broadly works of art, which were in the collections, but for which there are neither archives nor material proof of their existence in these collections.
If it is understood that all archaeological / ethnographic acquisitions must be made in accordance with the 1970 UNESCO and 1995 UNIDROIT Conventions for those States which have ratified them, in Switzerland, the LTBC, what should be done with works without archives – and what should be done with them if their owners wish to move, sell or lend them? What should be envisaged for the future? Could the regularisation of private collections – in forms to be studied – be made possible ?
We wish to initiate a reflection without taboos between the various protagonists involved in the art market: collectors, gallery owners, lawyers, historians and archaeologists, academics, museums, in order to find, in the long term, a reasonable solution that takes into account reality and does not harm either the objects, the bona fide owners or the researchers.
The Conference will be held in English and French with simultaneous interpretation.
Due to the sanitary measures, the conference will be done in presence and / or line and upon previous registration.
-> Programme of the Conference
-> Registration – Registration is closed but the conference will be available in live streaming using
the following link