On 24 August 2021, UNIDROIT entered into a Memorandum of Understanding (MoU) with Tashkent State University of Law to further collaborative work and foster engagement between the Institute and the University.
Tashkent State University of Law (TSUL) is a public higher educational institution and is one of the leading Uzbek legal research centres, renowned as a national centre of legal science and education.
As part of the MoU, the parties will seek to increase the engagement of faculty and students from TSUL in a number of areas including research on UNIDROIT projects, promotion of activities, and exchange of information.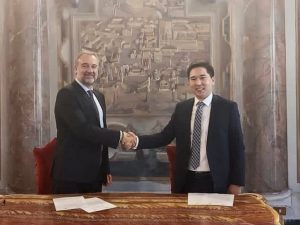 Secretary-General of UNIDROIT, Professor Ignacio Tirado and Acting-Rector of Tashkent State University of Law,
Ministry of Justice of Uzbekistan, Prof. Dr. Islambek Rustambekov sign the MOU in the Map Room of Villa Aldobrandini