On Tuesday 17 May 2022 the Ambassador Extraordinary and Plenipotentiary of the People's Republic of China in the Republic of Italy Li Junhua and UNIDROIT Secretary-General Professor Ignacio Tirado concluded an exchange of notes to further enhance cooperation between the Government of the People's Republic of China and UNIDROIT.
The exchange of notes allows UNIDROIT and the Government of the Hong Kong Special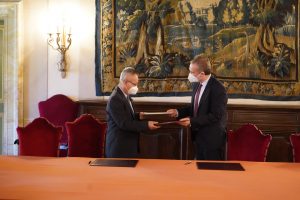 Administrative Region of the People's Republic of China to conclude a memorandum of understanding to collaborate in the promotion and development of private international law and commercial law in the Asia-Pacific region through the organisation of events and other initiatives. The video from the exchange of notes ceremony is available on the Institute's YouTube channel: https://youtu.be/RGlkVNcx6-A.