On 20 May 2021, UNIDROIT participated in the regional webinar "Trafficking in Cultural Property: The Business of Organised Crime", organised by the Justice Systems Cooperation Component of the EL PAcCTO programme (Europe Latin America Programme of Assistance against Transnational Organised Crime).
On this very sensitive subject for Latin America which has been and is particularly affected by the looting and trafficking in ecclesiastical objects and archaeological materials, the EL PAcCTO programme has published a guide on the fight against illicit trafficking in cultural property, entitled Diagnóstico de la situación y de las herramientas existentes en la lucha contra los delitos de tráfico ilícito de bienes culturales.
UNIDROIT, and its Academic Project (UCAP) welcome this fundamental tool for the authorities in charge of the investigation of crimes against cultural heritage, with a special focus on illicit trafficking in cultural property. In addition to the members of the prosecutors' offices and police forces of the different countries, this text can also be used by other authorities, such as judges, customs officers or cultural authorities. It gives an excellent overview of the national and international instruments – among which the 1995 UNIDROIT Convention on Stolen or Illegally Exported Cultural Objects – for the protection of cultural property, as well as of the tools for judicial international cooperation.
This webinar was opened by Juan Gama and Xavier Cousquer, Co-Directors of EL PAcCTO, and presented by Antonio Roma, Coordinator of the component of cooperation between Justice Systems of EL PAcCTO. It was attended by a large number of participants and the following subjects were addressed:
Walter Alva, archaeologist, Peru: Looting and destruction of sites
Martina González Antolín, National Police Force, Spain: Examples of the fight against illicit trafficking in cultural property
Lina Nagel, Ministry of Culture, Chile: Collaboration between ministries of culture in the fight against illicit trafficking in cultural property
Marina Schneider, UNIDROIT: International instruments for the restitution of property
José de la Mata, EUROJUST
Paolo Pellegrini, INTERPOL: the Database on Stolen Works of Art and the ID-ART Mobile App
Valeria Calaza, Attorney General's Office of the Argentine Republic: The Guide for investigation in Crimes of Trafficking in Cultural Property in Latin America as a tool for the protection of Latin American cultural heritage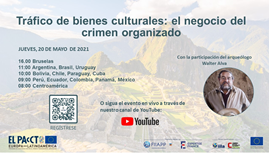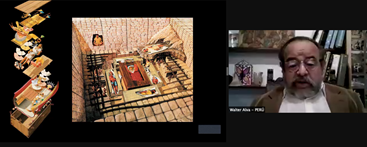 Walter Alva, archaeologist, Peru
Marina Schneider, UNIDROIT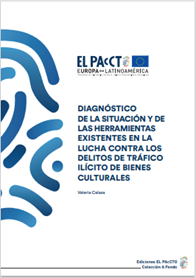 BIENES-CULTURALES.pdf (elpaccto.eu)