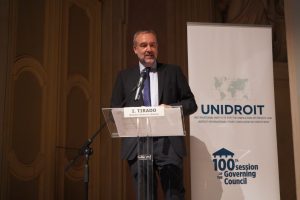 On 27 September 2021, UNIDROIT celebrated its greatest achievements during almost one century of work on the occasion of the 100th session of UNIDROIT's Governing Council. Members of the Governing
Council, past and present, eminent Correspondents, and distinguished Representatives from International Organisations (including the Secretary General of the HCCH, Mr. Christophe Bernasconi, the President of the European Law Institute, Professor Pascal Pichonnaz, or Acting Director General of DG Justice of the European Commission, Salla Saastamoinen, among others) gathered in Bologna (about 50 attendees in person) and online (about 80 registered participants) at the Historical Venue of the Oratorio San Filippo Neri.
The Conference, a by-invitation only event, was opened by the hosting institutions, President Maria Chiara Malaguti (UNIDROIT), Professor Giusella Finocchiaro (President of Fondazione del Monte), and Professor Caianiello (Director of the Department of Legal Studies, University of Bologna).
It featured a very rich programme, including (i) an introductory retrospective on the history of the Governing Council since its establishment by the Secretary General, and four panels on the main areas of achievement of the Institute, in the fields of: (ii) Secured Transactions, focused on the Cape Town Convention, though a dialogue between UNIDROIT's former Secretary General, Professor Herbert Kronke and Sir Roy Goode, with the comments of the Aviation Working Group's Secretary General Prof. Jeffrey ool; (iii) Contract Law, featuring a dialogue between Professor M. Joachim Bonell and Judge of the Conseil d'Etat, Professor Bénédicte Fauvarque-Cosson, with the comments of Professor Marcel Fontaine; (iii) Private Law and Agriculture, including a discussion between former UNIDROIT's Secretary General Prof. Angelo Estrella-Faria, Governing Council Member Prof. José Moreno, and FAO representative Carmen Bullón; and (iv) Cultural Property, with an analysis and discussion around the 1995 UNIDROIT Convention held by Principal Legal Officer Marina Schneider, Governing Council Member Jorge Sánchez Cordero (who announced, live, Mexico's forthcoming ratification of the Convention), and Professor Marc-André Renold. The conference also featured a Key Note speech delivered by Professor Paolo Mengozzi (former Judge of the Court of Justice of the European Union, Professor and Jean Monnet Chair of European Community law at the University of Bologna), on the historical significance of UNIDROIT and International law, as well as  a Panel dedicated to the relationship between UNIDROIT and its host state, Italy, chaired by Governing Council member and Professor Stefania Bariatti.