On 4 July UNIDROIT Secretary-General Prof Ignacio Tirado and Deputy Secretary-General Prof Anna Veneziano participated in a roundtable discussion with senior public sector officials in India, organised by India's Ministry of External Affairs in the context of India's Presidency of the UNIDROIT General Assembly. The roundtable followed a Seminar on UNIDROIT Projects, which took place in New Delhi on 3 July.
The meeting was attended by representatives of various Ministries, including the Ministry of Law & Justice, the Ministry of Corporate Affairs, the Ministry of Agriculture & Farmers Welfare, the Ministry of Mines, and the Ministry of Electronics and Information Technology. Other participants included representatives of the Steel Authority of India and the Reserve Bank of India.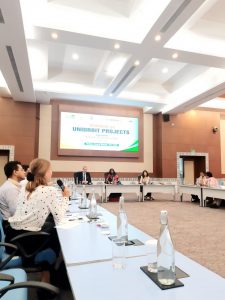 The roundtable was moderated by Ms Uma Sekhar, Additional Secretary at India's Ministry of External Affairs. Following introductory remarks by the UNIDROIT Secretary-General, the discussion centred around the Cape Town Convention and its Protocols – with a specific focus on the Aircraft Protocol and the MAC Protocol – UNIDROIT's Model Law on Factoring, the Principles on Digital Assets and Private Law, UNIDROIT's work on Private law and Agriculture, and its ongoing projects on Effective Enforcement and Bank Insolvency. The event enabled the UNIDROIT Secretariat to exchange views with these key stakeholders on technical aspects of its instruments.
The UNIDROIT delegation wishes to express its sincere gratitude to the Ministry of External Affairs of India, and in particular to Smt. Meenakashi Lekhi, Hon'ble Minister of State for External Affairs, and to Additional Secretary Ms Sekhar and her team, for the kind invitation and the excellent organisation of the events and meetings in New Delhi on 3 and 4 July 2023.