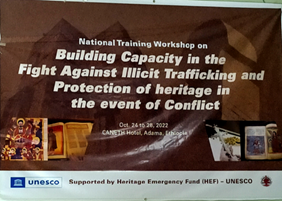 From 24 to 28 October 2022, Ms Marina Schneider, Principal Legal Officer and Treaty Depositary of UNIDROIT, attended a National Training Workshop on Building Capacities on the Fight against Illicit Trafficking of Cultural Objects: Protection, Mitigation & Recovery in Emergency held in Adama, Ethiopia, and organized by the UNESCO Liaison Office in Addis Abeba in collaboration with the Authority for Research and Conservation of Cultural Heritage.
The conflict in Ethiopia's Tigray region which spread to the neighboring Amhara and Afar regions, caused serious concerns about the destruction and looting of cultural heritages in the conflict regions, which are very rich in cultural heritage resources, housing the World Heritage site of Aksum, Lalibela and Simen Mountains National Park, and with a number of monasteries, churches, Mosques and museums.
The training workshop was an ideal platform for discussion among regional, national and international experts from museums, police and customs, archives and libraries, art professionals, representatives of law enforcement institutions, etc. on the policies and practices required to combat illicit trafficking of cultural property in the region.
One of the objectives of the training was to increase awareness of the benefits of acceding to the 1995 UNIDROIT Convention on Stolen or Illegally Exported Cultural Objects, Ms Marina Schneider made a presentation on such instrument and on the UNESCO-UNIDROIT Model Provisions on State Ownership of Undiscovered Cultural Objects together with an assessment of the relevant Ethiopian law. She built on the exchanges with the Ethiopian authorities at a preceding national workshop held in Addis Abeba in 2018 which recommended the accession to the 1995 UNIDROIT Convention.
The participants were also invited for a guided visit to the National Museum of Ethiopia.
More information on the 1995 UNIDROIT Convention
More information on the 1995 UNIDROIT Convention Academic Project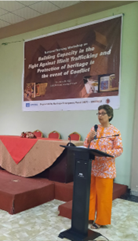 Dr. Rita Bissoonauth, Director of the UNESCO Liaison Office in Addis Ababa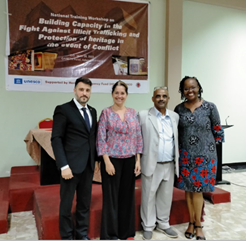 From left to right: Giordano Gonzalo, Criminal Intelligence Officer, INTERPOL General Secretariat, Marina Schneider, Principal Legal officer and Treaty Depositary,
Getu Assefa, Culture Programme Officer, UNESCO Office Addis Abeba, and
Judy Ogana, National Programme Officer – Culture, UNESCO Regional Office for Eastern Africa (Nairobi)