On 23-25 February 2022, the Working Group for the preparation of a Guide on Legal Structure of Agricultural Enterprises (LSAE) met at UNIDROIT's Headquarters in Rome and via Zoom.
The first session of the LSAE Working Group was chaired by Justice Ricardo Lorenzetti, Supreme Court of Argentina and Member of the UNIDROIT Governing Council. The meeting was opened by the UNIDROIT Deputy Secretary-General, Professor Anna Veneziano, the Legal Counsel of the Food and Agriculture Organization of the United Nations (FAO), Ms Donata Rugarabamu and the General Counsel of the International Fund for Agricultural Development (IFAD), Ms Katherine Meighan who introduced the most recent project of the tripartite co-operation between UNIDROIT, FAO and IFAD in the field of Private Law and Agricultural Development. The prospective Guide on Legal Structure of Agricultural Enterprises is a natural follow-up from the Legal Guide on Contract Farming (finalised in 2015) and the Legal Guide on Agricultural Land Investment Contracts (finalised in 2020).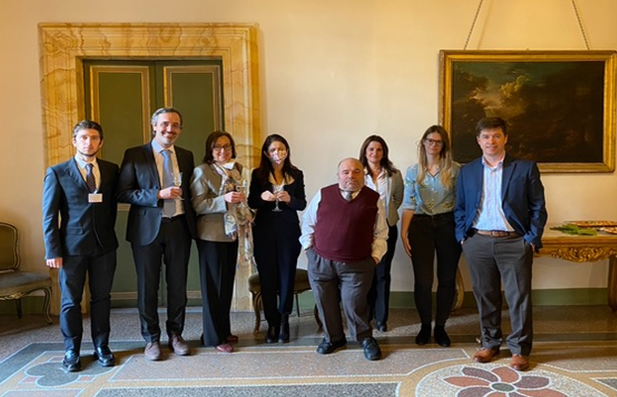 The Working Group appointed Professor Fabrizio Cafaggi (Judge at Council of State Italy and Professor at the University of Trento) as the Coordinator of the Group. The Working Group is currently composed of 40 experts, among which 11 Members, 10 representatives from the institutional partners (FAO and IFAD), and 19 observers from a number of intergovernmental organisations, non-governmental organisations and private sector.
The first session discussed the envisaged scope, objective and content of the guidance document. Among other issues, it addressed the impact of market structures on agricultural enterprises; the role of midstream agri-MSMEs in rural transformation; factors influencing the choice of corporate or contractual legal structures and the use of multiparty contractual arrangements for collaboration in agri-food supply chains. The Group also discussed the impact of Sustainable Development Goals (SDGs), green finance and digital technology on agricultural enterprises.
The report of the first session will be available online in due course, with the second session tentatively planned for September 2022.