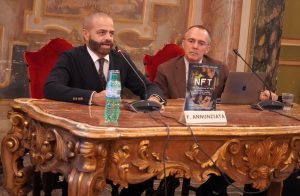 On 5 October 2022, UNIDROIT hosted  a presentation on NFTs and their impact on the regulation of the Art Market with the co-authors of "NFT: The other side of art". Introduced by UNIDROIT President Maria Chiara Malaguti, Law Partners Filippo Annunziata and Andrea Conso (of Annunziata&Conso) presented their publication, in an event designed stimulate a conversation on the legal ramifications of NFTs.
The presentation featured an overview of the origins of these crypto-assets, touching on the implications for Europe with the approval of the MiCA Regulation, and continued with a live demonstration by Street & Digital Artist BEETROOT of his approach on how to bridge the divide between the digital and physical work of art.
A lively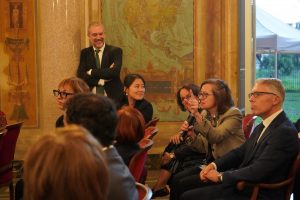 discussion ensued among the authors and attendees, which included participants in the  5th International Coordination of Secured Transactions Reform Conference ( 4-5 October 2022) and  13th Transnational Commercial Law Teachers' Meeting ( 6-7 October 2022),  both also hosted by UNIDROIT, as well as other invited guests.