From 29 June to 1st July 2021, UNIDROIT was invited to attend the first meeting of the Regional Monitoring Committee on the ECOWAS Action Plan for the Return of Cultural Property to their Countries of Origin, organised in Cotonou (Benin).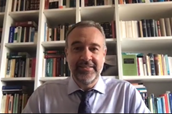 Prof. Ignacio Tirado, Secretary General of UNIDROIT, participated in the opening session of the meeting to reiterate UNIDROIT's support in accompanying ECOWAS Member States towards ratification of the 1995 UNIDROIT Convention on Stolen or Illegally Exported Cultural Objects which is one of the goals of the ECOWAS Action Plan.
The ECOWAS Action Plan 2019-2023 was approved by the Authority of Heads of State and Government in December 2019, with the aim of contributing to the returning ECOWAS Member States' cultural goods to their countries of origin. The Action Plan in its implementation mechanism, provides for the establishment of a Regional Committee in charge of the monitoring of the Action Plan.
The Regional Monitoring Committee is mandated among others to validate the roadmap of the Action Plan, ensure compliance with the Action Plan roadmap and report to Heads of State on the implementation of the Action Plan.
Ms Marina Schneider, Principal Legal Officer and Treaty Depositary at UNIDROIT, attended the meeting and recalled the Committee the role and challenges of the 1995 UNIDROIT Convention in the implementation of the Action Plan and thanked ECOWAS for the advocacy made in favour of the 1970 UNESCO and 1995 UNIDROIT Conventions with its Member States.
UNIDROIT congratulated Benin for the entry into force of the 1995 UNIDROIT Convention in its country on the 1st July and stressed its support in the implementation.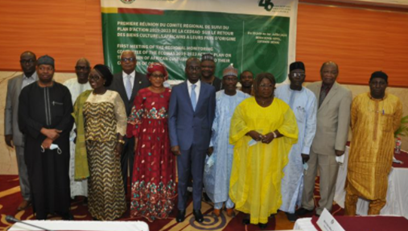 Hon. Jean-Michel Abimbola, Minister of Culture and Tourism of the Republic of Benin,
with the Regional Monitoring Committee's members, eminent personalities from the political,
diplomatic and cultural world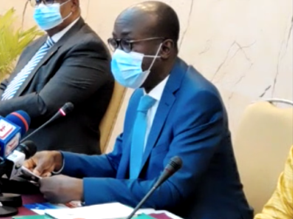 Hon. Jean-Michel Abimbola, Minister of Culture and Tourism
of the Republic of Benin at the opening session