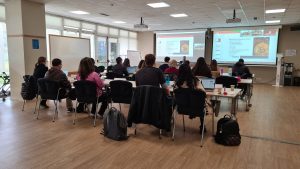 On 30 March 2022, Mr Carlo Di Nicola, UNIDROIT Senior Legal Officer, delivered a presentation on the UNIDROIT Digital Assets and Private Law to postgraduate students of the LLM Programme in International Trade Law at the International Training Centre of the International Labour Organization (ITC-ILO) in Turin, Italy.
The day-long lecture introduced the students to UNIDROIT's Digital Assets and Private Law Project. The students learned about the genesis of the Project and reviewed the Draft Principles' key sections such as control, transfer, custody, and secured transactions.
The lecture was part of the Master of Laws in International Trade Law programme, co-organised by the ITC-ILO, the University of Turin and the University Institute of European Studies in collaboration with the Turin School of Development.
Learn more about: ITC-ILO LLM Programme in International Trade Law
Learn more about: UNIDROIT Digital Assets and Private Law Project