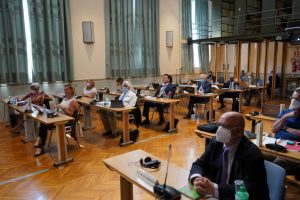 On 22-24 September 2021 , UNIDROIT hosted the second meeting of the 100th session of the UNIDROIT Governing Council in hybrid format, resuming from the first meeting that had been held in April/May 2021 via remote written procedure, opened and chaired by UNIDROIT President Professor Maria Chiara Malaguti.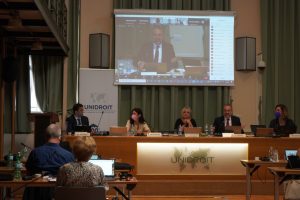 In the absence of the doyen of the Governing Council, Mr Artur Hartkamp, Mr Henry Gabriel and Mr Hans Georg Bollweg were temporarily appointed First and Second Vice President, respectively. The Governing Council expressed its appreciation to the Secretariat staff for its dedication and hard work in the implementation of the Institute's mandate, as showcased by the numerous activities undertaken despite the difficulties caused by the COVID-19 pandemic, and commended the UNIDROIT Foundation for its continued support, in particular for the development of a methodology on economic  assessments and excellent work on best practices in the area of electronic registries.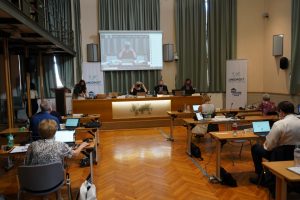 In matters pertaining the definition of scope and priority of new projects on the Work Programme, the Council confirmed the high priority status for the projects on Bank Insolvency and Legal Structure of Agricultural Enterprises, allowing the formation of  Working Groups for both projects. The Governing Council also took note of the progress that had been made on the projects concerned with Warehouse Receipts, the Model Law on Factoring, Best Practices for Effective Enforcement and Digital Assets and Private Law. The Council was also presented with a progress report on the work undertaken by the Secretariat on UNIDROIT Instruments and the response to the COVID-19 pandemic. The Governing Council was briefed on the extraordinary activities of the Secretariat related to the Protocol to the Cape Town Convention on matters specific to Aircraft Equipment in the context of the pandemic, and provided with an update on the status of implementation of the Rail, Space and MAC Protocols. The meeting also addressed the status of implementation of the 1995 UNIDROIT Convention on Stolen or Illegally Exported Cultural Objects and  the Project on the Private Art Collections.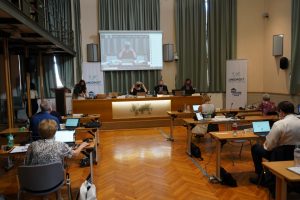 In matters pertaining to the Institute's policies, the Secretariat obtained the approval of the Council on a new method for the appointment of UNIDROIT Correspondents, its consent for the temporary application of a new Whistleblower and Anti-Retaliation policy pending the full review of the UNIDROIT Regulations, and the endorsement of the UNIDROIT Academy initiative. Finally, the Council was presented with the newly launched UNIDROIT website.