On 29 April 2022,  UNIDROIT hosted a Conference on Digital Platforms and Global Governance, Co-organised with Professor Fabio Bassan of Roma Tre University and the European Law Institute (ELI).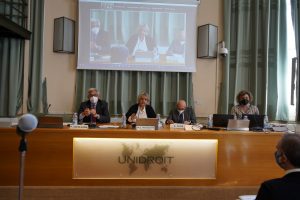 The Hybrid Conference was opened by President Maria Chiara Malaguti, and featured opening Keynote speeches from Deputy Governor Piero Cipollone of the Bank of Italy and Guido Alpa (Emeritus, La Sapienza), followed by a rich programme divided into three sessions concerned with discussing the EU vs US models, moderated by Secretary-General Ignacio Tirado, Platforms for International Trade, Exchanges and Dispute Resolution, moderated by Deputy Secretary-General Anna Veneziano, and New Proposals for Governance moderated by President Malaguti.
The panels benefitted from the excellent contributions from renowned experts including Carmine Di Noia (OECD), Andrea Renda (EUI), Antonio Nicita (EC-RSB), Elisabeth Noble (EBA), Carla Reyes (SMU Dedman School of Law), Marianne Bechara (IMF), Silvio Micali (Algorand), Philip Paech (LSE), Giusella Finocchiaro (Bologna University) Aneta Wiewiorowska (ELI), Fabio Bassant (Roma Tre), Larry Catà Backer (Penn State), Teresa Rodriguez de las Heras Ballell (Carlos III University and ELI).
After a lively and productive debate that was elicited following each of the panels, Professor Giorgio Sacerdoti (Emeritus, Bocconi University), delivered the concluding remarks before President Malaguti closed the conference.
UNIDROIT will publish the videos of the conference in due course on its YouTube Channel (subscribe to receive notifications).
The following material is freely accessible online (the rest may be provided upon request submitted to the Secretariat):
Programme, Larry Backer's slides and remarks, Piero Cipollone's remarks, Silvio Micali's remarks