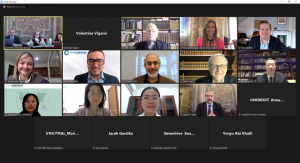 On 26-28 April 2022, the Working Group on Best Practices for Effective Enforcement, chaired by Governing Council member Kathryn Sabo, met at UNIDROIT's Headquarters in Rome and via Zoom to discuss the outcome of the intersessional work undertaken by its members and observers since the third session.
Following a presentation on the progress of the project and a summary of the intersessional meetings and workshops that had taken place, the Working Group addressed draft best practices regarding enforcement by way of authority, enforcement on digital assets, issues regarding online auctions, and an update on draft best practices regarding enforcement of security rights. The Working Group also addressed the organisation of future work and the way forward.
The Report of the session will be available on the UNIDROIT website in due course.
More information on the Best Practices for Effective Enforcement Project