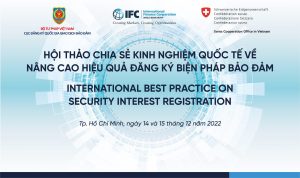 On 14 December 2022, UNIDROIT participated remotely in a workshop on International Best Practice on Security Interest Registration. Organised as a joint initiative between the Government of the Socialist Republic of Viet Nam and the International Finance Corporation (IFC) and supported by the Swiss Cooperation Office in Viet Nam, the event brought together international experts and Vietnamese stakeholders to share their experiences in secured transactions reform.
During the event, UNIDROIT Senior Legal Officer William Brydie-Watson presented remotely on UNIDROIT's work on the Guide on Best Practices for Electronic Collateral Registries (a joint initiative under the Cape Town Convention Academic Project), as well as the design and operation of registries under the Cape Town Convention system and the future UNIDROIT Model Law on Factoring. Vietnamese stakeholders demonstrated strong interest in the Mining, Agriculture and Construction (MAC) Protocol to the Cape Town Convention, with a specific focus on how the Vietnamese collateral registry could serve as an entry point to the future International Registry for MAC equipment, in order to improve access to finance for Vietnamese mining, agriculture and construction companies.
A copy of the workshop agenda is available here.
A copy of UNIDROIT's presentation is available here.