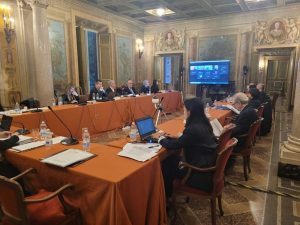 On 12 – 14 December 2022, the Working Group on Best Practices for Effective Enforcement, chaired by Governing Council member Kathryn Sabo, met at UNIDROIT's Headquarters in Rome and via Zoom to discuss the outcome of the intersessional work undertaken by its members and observers since the fourth session.
The Working Group continued to address draft best practices to render enforcement of creditors' rights more effective, focusing on enforcement by way of authority, extrajudicial enforcement of secured claims, enforcement on digital assets, and issues regarding online auctions. The session was enriched with a presentation on the use of ADR and ODR in enforcement, provided by the World Bank Group.
The Working Group also addressed the organisation of future work and the way forward, including the work of the Drafting Committee, tasked with finalising the drafts on which the WG has reached an agreement as a matter of policy.
The next session of the Working Group is scheduled on 14-16 March 2023.