On 10 November 2021, the Kingdom of Spain, which is already a Party to the Cape Town Convention and the Aircraft Protocol, signed the Luxembourg Rail Protocol, which was adopted in February 2007 at a diplomatic Conference held in Luxembourg. The Luxembourg Rail Protocol will enter into force when the conditions set out in its Article XXIII(1) have been satisfied.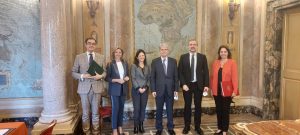 His Excellency, Mr Alfonso María Dastis Quecedo, Ambassador Extraordinary and Plenipotentiary of the Kingdom of Spain in Italy, signed the Luxembourg Rail Protocol at a ceremony held at the UNIDROIT Headquarters in Rome. The Ambassador was accompanied by Mr Moisés Morera and received by the  Secretary-General Prof. Ignacio Tirado, Deputy Secretary-General, Prof. Anna Veneziano, Principal Legal Officer and Treaty Depositary Ms Marina Schneider, as well as Prof. Teresa Rodriguez de las Heras Ballell (UNIDROIT consultant and Spanish representative of the Rail Working Group).
Professor Ignacio Tirado expressed great appreciation for the signature as a first step towards the planned ratification of the Protocol by Spain, which were an indication of the Spanish government's commitment to facilitate rail rolling stock financing in line with the principles of environmentally sustainable transport.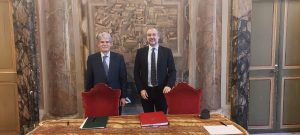 With the fourth ratification on the horizon, there is growing momentum towards the Protocol's Entry into Force.
Further details about the Luxembourg Protocol and the Cape Town Convention are available at:
– "Depositary Functions of UNIDROIT – Luxembourg Rail Protocol"
– "Depositary Functions of UNIDROIT – Cape Town Convention"