On 23 November 2021, UNIDROIT was invited to participate in a Workshop entitled "Excellence and Innovation… Our Profession – COVID and beyond", in the context of the 24th International Union of Judicial Officers (UIHJ) Congress on Cyber Justice, sponsored by the Government of Dubai and hosted by Dubai Courts.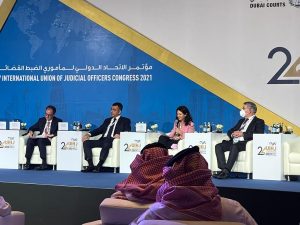 Deputy Secretary-General Anna Veneziano spoke on a panel dedicated to "Cyber Justice: New Opportunities for the Judicial " moderated by  David Walker (Rapporteur General of the Congress), together with Christophe Bernasconi (Secretary General of the Hague Conference on Private International Law (HCCH)), Sjef van Erp (Emeritus Professor of Civil Law and European Private Law, Maastricht University , President of the International Association of Legal Science), Ramin Gurbanov (Judge at the Baku Court of Appeal, Azerbaijan President of the Council of Europe's European Commission for the Efficiency of Justice (CEPEJ)), and Mohammed Mubarak Al Suboosi (Chief Justice of the Dubai Courts).
UNIDROIT  Sir Roy Goode Scholar and Consultant Teresa Rodriguez de las Heras Ballell also participated, featuring in a panel on "The Acceleration of the Digitisation of Legal Systems", moderated by Rui Miguel Simão (Secretary of the board of the General Council of Solicitadores of Portugal, member of the Innovation Team of the UIHJ),  Dimitriy Aristov (Director of the Federal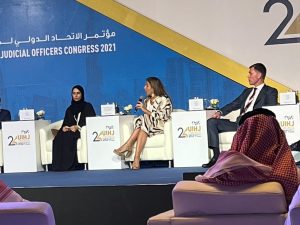 Bailiffs Service of the Russian Federation, member of the board of the UIHJ), Alex Irvine (Judicial Officer, Scotland, Past president of the Society of Messengers-at-Arms and Sheriff Officers of Scotland), Luis Ignacio Ortega Alcubierre (Vice-President of the UIHJ, Procurador, Spain), Amna al Owais (Chief Registrar of the Dubai International Financial Centre Courts (DIFC)) and Vladimir Yarkov (Professor at the University of Ural Ekaterinburg, Russian Federation, member of the Scientific Council of the UIHJ).